Description
Women's Stephane Verdino Yam lined leather 3-hole lace-up Derby shoe with round toe, gum sole and 1.5-cm heel. The original Yam Derby shoe by Stéphane Verdino, with its fine lines in ultra supple smooth kid leather, in block colour or polka dot, will provide a boyish and quirky touch when worn with a light dress and a fedora hat! We love their quirky chic style for any time of day!
Product type Lace-up shoes
Shop City
Season Spring/Summer
Manufacture France
Heel height 1.5 cm
Ref 34101
Upper/Ankle Leather
Lining Leather
Insole Leather
Outer sole Rubber
Construction Sewed
*Recommended Retail Price in Spring/Summer 2011
Reviews
No reviews. Be the first to give your opinion!
Stephane Verdino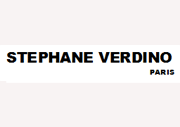 Stéphane Verdino accessories reflect a very contemporary view of beauty and style. Overkill and theatricality have no place in these designs, which are a haven for peaceful, almost reverential silence. The minimalist designs bear no embellishments. Overnight bags, satchels, shoppers, holdalls, sneakers, boots and Derbys are based on clean, pure, geometric lines. Stéphane Verdino has rejected the superfluous: no linings, black stitching or raw edges... and a rectangular logo that's simplicity itself. Stéphane Verdino accessories come in patent or lamé leather to catch the light. Like architecture that allows you to breathe, his creations invite escapism and liberate dreams. Unisex, timeless, classic... Stéphane Verdino accessories won't let you down. To love the brand is to embrace a serene lifestyle defined by elegance, restraint and inward reflection. Essential.
All styles Stephane Verdino Women