Description
Women's Reebok Easytone trend lp 5-hole lace-up imitation leather running shoes with round toe and rubber sole. The Easytone Trend lp by Reebok boasts a modern look, non-slip sole and comfortable fit — the perfect keep fit partner. Designed using an exclusive technology, with integrated air cushions these shoes get the key leg and buttock muscles working.
Sport Walkfit
Shop Small sizes
Fieldtype All surfaces
Level Training
Season Spring/Summer
Manufacture Asia
Size reference 38
Ref 35142
Upper/Ankle Synthetics
Lining Synthetics
Detachable sole No
Insole Synthetics
Outer sole Rubber
Construction Vulcanized
*Recommended Retail Price in Spring/Summer 2011
Reebok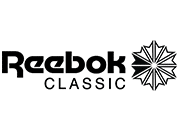 This English brand was originally founded for the very best of reasons: to help athletes to run faster. In 1890, Joseph William Foster created the first running shoes with studs on the sole. In 1958, the company adopted the name Reebok; an African gazelle. During the 1980s, Reebok launched its first sports shoe specially designed for women's aerobics. Today the brand enjoys renown as a great sporting icon.
All styles Reebok Women