Description
Men's New Balance M400 5-hole lace-up, leather and textile sports shoe with gum sole. Removable insole. Measurements are based on a size 41 shoe. Single shoe weight 260g. The New Balance M400 shoe is a benchmark shoe which has been tested for over a decade on major marathon routes! Lightweight with a streamlined silhouette.
Product type Trainers
Shop Casual
Season Spring/Summer
Manufacture Vietnam
Size reference 40
Ref 44163
Upper/Ankle Leather/textile
Lining Textile
Detachable sole Yes
Insole Textile
Outer sole Rubber
Construction Vulcanized
*Recommended Retail Price in Spring/Summer 2011
Reviews
No reviews. Be the first to give your opinion!
New Balance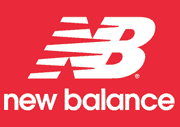 New Balance started out in 1906 in Cambridge, Massachusetts (USA), when William J. Riley began manufacturing insoles and orthopaedic shoes. 1961 saw the launch of the revolutionary Trackster, the first running shoe in the world to be available in different widths In 1972, Jim Davis, then director and sole owner, bought New Balance on the day of the Boston Marathon. He is committed to keeping the brand values of performance and quality alive. The brand's absolute priority is its product: the shoes are manufactured in England with an American quality guarantee, each range offers several widths per size and the company invests hugely in research and development. The brand's marketing policy reflects this commitment to the product by refusing to use celebrity athletes in its advertisements — after all, it's the products that make the brand, not the stars who represent it. This lucrative strategy has propelled the brand to fourth place within the global athletic footwear market today.
All styles New Balance Men
Discover other styles from New Balance