Description
Men's Mustang Shoes Attelage 2, a 7-hole lace-up imitation leather sports shoe with gum sole. With a casual, street-style, these Attelage 2 sports shoes by Mustang Shoes have a casual topstitched upper and are decorated with an eagle motif on the side.
Product type Trainers
Season Spring/Summer
Manufacture Vietnam
Ref 31498
Upper/Ankle Synthetics
Lining Textile
Insole Textile
Outer sole Rubber
Construction Vulcanized
*Recommended Retail Price in Spring/Summer 2010
Mustang shoes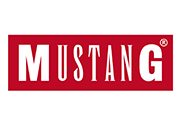 With their classic American baseball boots and leather cowboy boots, you would think that Mustang Shoes come straight from the other side of the Atlantic…in fact the brand is German! Founded in 1932, the brand has established a deep connection with the fashion and history of the United States, and strives to celebrate the country's pioneer spirit and heritage in their modern designs. Taking inspiration from the cowboys of the Wild West, Mustang shoes has gained a following of dedicated customers in 44 countries, enchanted by the independent spirit of their shoes. Laid back and sexy, their designs bring a vintage aesthetic to the modern market, with a focus on subtle detailing, quality fabrics and hardwearing leathers. The call of the Wild West is irresistible, let Sarenza take you there — but don't forget your Mustang shoes!
All styles Mustang shoes Men