Description
Men's Munich Gresca M 7-hole lace-up imitation leather and textile sports shoe with gum sole. Munich, the famous Spanish brand with its X logo presents this absolute must-have: the Gresca M! Perfect for playing indoor football and as a fashion statement, they are available in a varied range of colours, blending matt and metallic colours. They will soon become an essential item for any sneakers-addict!
Sport Football
Shop Casual
Fieldtype Indoor
Level Competition
Season Spring/Summer
Manufacture Spain
Size reference 40
Ref 41490
Upper/Ankle Leather/textile
Lining Textile
Detachable sole Yes
Insole Textile
Outer sole Rubber
Construction Vulcanized
*Recommended Retail Price in Spring/Summer 2011
Munich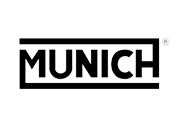 Ironically, Munich shoes are originally from Spain! The label was created in 1939 in Barcelona under the name Berneda and was a small family business that specialized in sport shoes. In 1964, the brand renamed itself Munich after being made popular by Spanish basketball players, who endorsed the shoe. In recent years, Munich have turned their sports image into one that is trendy and have a reputation for being popular street wear for stylistas. With their instantly recognizable style and a mix of fun designs and old craftsmanship Munich shoes are definitely ones for fashion followers to look out for!
All styles Munich Men