Description
Women's Maloles pump with round toe, decorated with a bow. With fixed insole. The width of the shoe in size 5 is 3.2 inches.
Product type Ballet pumps
Shop City
Season Fall/Winter
Manufacture Spain
Heel height 0.5 cm
Size reference 38
Ref 40445
Upper/Ankle Leather
Lining Leather
Detachable sole No
Insole Leather
Outer sole Leather/Rubber
Construction Sewed
*Recommended Retail Price in Fall/Winter 2011
Reviews
No reviews. Be the first to give your opinion!
Maloles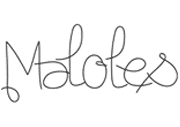 Maloles Miracosta is the favoured designer of fans of luxury pumps, wedge sandals and feminine heels who don't take themselves too seriously. The Spanish-born designer, previously a fashion writer for Elle and Vogue, took the plunge and launched her very own brand of shoes in Paris in 2004. The "Zoé" pump has been a must-have piece for all self-respecting shoe-aholics since 2005. Maloles introduces humour into her designs while paying unerring attention to even the tiniest of details. All her shoes are manufactured in Alicante, Spain, and sold in high-class boutiques in London, New York and Paris. Six thousand pairs were sold in the summer of 2006 alone — making Maloles a force to be reckoned with in the fashion world.
All styles Maloles Women