Description
If you're an artist at heart and handy with the paintbrush, you'll love the Lita Lights ankle boots! Leave the gloom behind, put on your ultra-arty Jeffrey Campbell Lita Lights and dazzle the town with your unmissable style. If you're a free spirit, you can't help but fall for the trendy, winking plexi heel, guaranteed to showcase your talents on the dance floor. All you have to do is turn on the switch on the sole. The beautiful multi-coloured leather will highlight your skinny jeans!
With fixed insole.


Product type Ankle boots
Shop Top fashion
Season Spring/Summer
Manufacture China
Heel height 13 cm
Platform height 5 cm
Leg height 5 cm
Size reference 38
Ref 71896
Upper/Ankle Leather
Lining Leather
Detachable sole No
Insole Leather
Outer sole Rubber
Construction Vulcanized
*Recommended Retail Price in Spring/Summer 2013
Jeffrey Campbell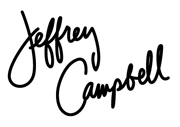 After ten years in the industry, the Jeffrey Campbell quality remains the same! With its headquarters based in sunny LA the intimate family team is dedicated to bring you the best styles season after season and at competitive prices.

2000 saw Jeffery Campbell working hard in his garage to produce a brand we now have come to know and love. With his small team, Jeffery Campbell continues to woo fashionistas near and far, reworking vintage concepts, traditional runway looks and continuously thinking out the box which may be why his ballet flats and boots remains amongst his client's favourites. Maybe the reason why Jeffery Campbell has seen so much success in such little time is because he reaches a wide demographic, catering for all ages, clients and shoppers - all of course while maintaining fashionable, trendy and most importantly comfortable and good value for money!

Jeffreys A/W 2011 collection has arrived at Sarenza and has revamped classics all with a masculine spin! This is one brand that never ceases to amaze.
All styles Jeffrey Campbell Women