Description
Women's Havaianas flip flops in natural rubber. Season after season, Havaianas are top of the pile. Comfortable, lightweight, soft and flexible underfoot, the Slim brings a refined, elegant twist to the classic summer flip flop. And that's not its only asset: it comes in a huge range of pastel and metallic colours, from neutral and elegant beige to candy pop lilac, not forgetting blue lagoon and dark cocoa. There are Havaianas to suit all tastes!
Product type Flip flops
Shop Casual
Season Spring/Summer
Manufacture Brazil
Size reference 39
Ref 10192
Upper/Ankle Rubber
Lining Rubber
Detachable sole No
Insole Rubber
Outer sole Rubber
Construction Sewed/Welded
*Recommended Retail Price in Spring/Summer 2011
Havaianas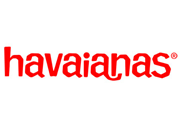 A Japanese sandal, the Zori, provided the inspiration for the first Havaianas flip flop created in 1962 in Brazil.

The secret formula of the highly flexible rubber soles has been the key to the brand's international success for over forty years. The product concept was so simple that it took the world by storm: a total of 2.2 billion pairs of flip flops have been sold worldwide since the launch of the brand.

In Brazil, Havaianas flip flops are loved and worn by the entire population and also clad the feet of models in all the top glossy magazines. Havaianas has become the most stylish plastic flip flop throughout the world.
All styles Havaianas Women