Description
Men's Havaianas flip flops. The answer to the age-old question: how to be bang on trend without breaking the bank?... is these great Brazilian flip flops from Havaianas. A new feature this season is the logo worked into the strap. Please note: Havaianas come in 4 sizes: 39/40, 41/42, 43/44, 45/46.
Product type Flip flops
Shop Casual
Season Spring/Summer
Manufacture Brazil
Ref 11927
Upper/Ankle Rubber
Lining Rubber
Detachable sole No
Insole Rubber
Outer sole Rubber
Construction Sewed/Welded
*Recommended Retail Price in Spring/Summer 2011
Havaianas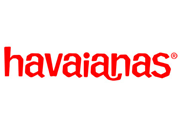 Born in Brazil in 1962, Havaianas have gone on to conquer the world one flip-flop at a time.

Their secret formula of highly flexible, aerated, non-slip rubber soles has been central to the brand's international success, and has seen them take the world by storm: over 2.2 billion pairs of Havaianas have been sold worldwide in fifty years! While the word "havaianas" means Hawaiian in Portuguese, the Havaianas flip-flops reflect the laid-back, "sun, sea and sand" Brazilian lifestyle and South American attitude. Inspired by a Japanese sandal, the Zori, the simple concept was revolutionised by creating a long lasting and sturdy sandal, which is now worn all over Brazil by everyone from children to models!

As the brand has evolved, so too has their styles. Havaianas now offer rain boots, trainers and espadrilles in a rainbow of kooky colours, prints and designs. Havaianas will put a spring in your step, come rain or shine!

All styles Havaianas Men