Description
Women's Guess Odious leather ankle boots with round, open toe, side zip fastening, rubber sole and 9-cm heel. Perforated leather with open toe and open sides: revealing and ultra-feminine, the Odious by Guess is the must-have accessory for those who feel lost without their ankle boots… even on sunny days.
Product type Ankle boots
Shop City
Season Spring/Summer
Manufacture Asia
Heel height 9 cm
Ref 36594
Upper/Ankle Leather
Lining Leather
Insole Leather
Outer sole Rubber
Construction Vulcanized
*Recommended Retail Price in Spring/Summer 2011
Guess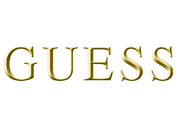 Distributed in more than 747 sales points across the world, the Brand Guess is one of the market leaders in the prêt-à-porter world. The Marciano brothers graced California with a small Jeans company.

Having spent their childhood in the South of France, the brothers ingeniously married their love for West America with a hint of European touch to creat the Guess brand as it is today.

The brothers transformed the jeans from what was originally considered as a uniform for the working classes to what we now consider as a stable sensual part of our wardrobes. Twenty-five years after the Marciano's leap into the world of fashion, Guess clothes and shoes are worn all over the world.

All styles Guess Women