Description
Girls' Geox J S.Roxanne R leather and textile sports shoes with round, open toe, 2 Velcro fastenings on the instep, 1 on the back of the heel and breathable gum sole. Open and airy, in girly colours, the J S.Roxanne R by Geox is a comfortable basic shoe bursting with femininity.
Sport Hiking and Outdoor
Shop Sport
Usage Walking sandals
Weight 145 g
Season Spring/Summer
Manufacture Vietnam
Size reference 28
Ref 35086
Upper/Ankle Leather/textile
Lining Synthetics
Detachable sole No
Insole Leather
Outer sole Rubber
Construction Vulcanized
Geox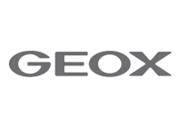 Ideas can come from anywhere, and for Mario Poletti Polegator, the inventor of Geox shoes, inspiration struck when he was walking in the streets of Nevada. Suffering from the intense heat, he pierced the soles of his shoes with a knife; a genius idea, which he brought back to the ateliers of Italy where the concept was refined and perfected. After trying to sell the prototypes to several big companies, he decided to start his own brand in 1995 and nurture and develop his innovative concept. With a boundless determination and tenacity, his "shoe that breathes" got the recognition that it deserves, and now Geox is one of the biggest shoe brands in the world. This success is based on a solid foundation…one that literally lies under our feet! The Geox patented sole incorporates a special membrane which lets the foot breathe while remaining resistant to external moisture! With a focus on comfort and flexibility, soft materials and ergonomic design, Geox also has its finger on the fashion pulse with their elegant and casual designs for the whole family. Handcrafted from quality materials, Geox shoes combine wellness and beauty like no other brand on the market.
All styles Geox Kids
Discover other styles from Geox