Description
FAMACO saddlery-style leather pouch. Set containing a full range of products for looking after your shoes. Contains: 1 tin of black beeswax shoe polish, 1 tin of colourless beeswax shoe polish, 1 pale brush, 1 standard polishing brush and 1 30 cm x 40 cm chamois cloth. Ideal as a present for a shoe lover!
Product type Care products
Shop City
Season Fall/Winter
Manufacture France
12 x 13,5 x 9 cm
Ref 9239
*Recommended Retail Price in Fall/Winter 2015
Reviews
No reviews. Be the first to give your opinion!
Famaco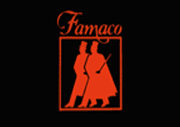 We all know that good shoe care is essential. The versatile range of Famaco products has been designed for use with all kinds of leather goods. From protection and cleaning to restoring the colour of badly damaged leather, you'll always find the ideal product to preserve the beauty of your shoes.
All styles Famaco Accessories