Description
FAMACO 50 ml protective cream. A cream for cleaning, nourishing and restoring the colour of all types of leather: shoes, clothes, bags etc. Available in a wide range of colours, FAMACO protective creams have strong colouring power, making them indispensable in the event of scuffing. Used regularly (at least once a week), they will delay ageing of the leather and give a new lease of life to faded accessories. Their smooth texture leaves a satin finish. Recommendations for use: Apply the cream to a clean surface, leave to work for a few minutes then polish using a polishing glove or soft cloth. It is advisable to use a cream in the same colour as the leather to revive the colour; however, if you cannot find the exact shade then it is better to opt for the colourless cream.
Product type Care products
Shop City
Weight 140 g
Season Spring/Summer
Manufacture France
Capacity 50 mL
Ref 9222
*Recommended Retail Price in Spring/Summer 2016
Reviews
No reviews. Be the first to give your opinion!
Famaco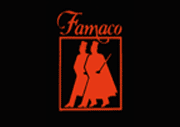 We all know that good shoe care is essential. The versatile range of Famaco products has been designed for use with all kinds of leather goods. From protection and cleaning to restoring the colour of badly damaged leather, you'll always find the ideal product to preserve the beauty of your shoes.
All styles Famaco Accessories