Description
Women's Converse low textile version of the Chuck Taylor All Star trainer; lace-up version with 6 metal holes. The lining and insole are made from textile; the outer sole is made from genuine rubber. These legendary sports shoes from the 1970s have become must-have items, whether you're a fashionista or a girl with more traditional tastes! These are the trainers you absolutely have to own, and in several colours too...
Product type Trainers
Shop Casual
Season Fall/Winter
Manufacture Vietnam
Size reference 37
Ref 10185
Upper/Ankle Textile
Lining Textile
Detachable sole No
Insole Textile
Outer sole Rubber
Construction Welded
*Recommended Retail Price in Fall/Winter 2013
Reviews
No reviews. Be the first to give your opinion!
Converse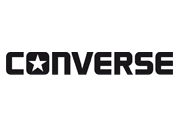 The unbeatable Chuck Taylor All Star from Converse has arrived at Sarenza! Made legendary by the NBA basketball player Chuck Taylor, it is still a must-have in the wardrobes of fashionistas and more traditional wearers alike.

The Converse label celebrates its 100th anniversary this year. It was actually in 1917, in Massachusetts, that the first Converse saw the light of day — it was all black and only intended for basketball players. And so it was that for more than 40 years, Converse shoes were exclusively reserved for use in sports. Everything changed when Chuck Taylor decided to wear only Converse shoes for a whole season.

From that point on, the spotlight was on the canvas sports shoe bearing the name of the basketball player: the Converse Chuck Taylor All Star became a must-have product. As a result, the Converse sports shoe is now a firm favourite in the fashion world and among ordinary people.

Everyone from Keira Knightley to Naomi Watts—not forgetting all the fashion writers as well — have made the Converse shoe the pinnacle of fashion… At Sarenza.co.uk, we ascribe to this easy fashion!
All styles Converse Women
Discover other styles from Converse