Description
Children's Camper Peu pista 90151 lace-up ankle boot, in lined leather and textile, with round toe, Velcro fastening at the ankle and rubber sole. With fixed insole. The width of the shoe in size 12.5K is 3.2 inches. A blend of desert boot and hi-top sports shoe, these excellently crafted boot shoes in gorgeous soft nubuck will quickly become indispensable. Perfect for everyday wear!
Product type Trainers
Shop City
Season Fall/Winter
Manufacture Vietnam
Ref 40127
Upper/Ankle Leather
Lining Leather/textile
Detachable sole No
Insole Synthetics
Outer sole Rubber
Construction Vulcanized
*Recommended Retail Price in Fall/Winter 2011
Camper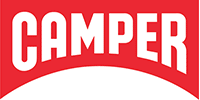 Camper represents a century of history for a family that has dedicated its working life to the shoe industry. In 1877, Antonio Fluxà set up the first modern shoe factory on the Spanish island of Majorca.

The Camper brand was born in 1975 when Lorenzo Fluxà, Antonio's grandson, decided to bring the manufacturing techniques up to date with the latest technological developments.

And so the brand, a testament to the changing lifestyle in 1970s Spain, progressed and developed in the newfound spirit of freedom, comfort and creativity. The secret of Camper's success is its fusion of traditional expertise and craftsmanship with modern design and technology.

Camper shoes draw inspiration from their Mediterranean roots and update these principals for the modern and urban lifestyle of their customers. Now, forty years on, Camper's presence is well established in over forty countries with a hundred boutiques and over three thousand multi-brand stores. Quality, comfort and creativity are at the core of Camper shoes.
All styles Camper Kids